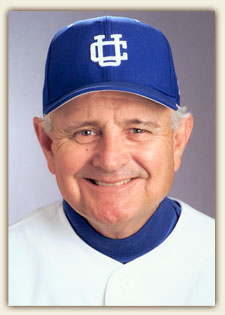 In a collegiate coaching career spanning 35 years, UC Riverside Head Coach Jack Smitheran posted a record of 1,097-770-3, including a 974-709-3 mark in 31 years at UC Riverside and a 123-104 record in four years at the Division I level. In his tenure, he guided the evolution of the Highlander program from an unknown Division II school into a Division II NCAA champion and eventually into a Division I postseason qualifier.
And on January 4, 2002, he received the ultimate honor of being named to the American Baseball Coaches Association Hall of Fame. He joined an impressive list of previous inductees, including former USC Head Coach Rod Dedeaux, Stanford's Mark Marquess, UCLA's Art Reichle, as well as Smitheran's former coach at ASU and mentor Bobby Winkles. He was also inducted into the Riverside Sports Hall of Fame in May 2004 and saw his number 2 retired during the 2006 season.
Smitheran's list of career achievements is remarkable. He has:
Coached two Division II National Champions (1977 and 1982)
Won eight California Collegiate Athletics Association titles
Led teams to 10 NCAA Division II West Regional appearances
Made five trips to the Division II College World Series
Became just the fifth NCAA Division II coach to achieve 900 career victories
Took the Highlanders to the NCAA Regional in just their second season of Division I play
Was an assistant coach for the 2004 USA Baseball National Team that won the Gold Medal at the FISU World University Championships
Had nine former players reach the big leagues, including Tampa Bay Rays closer Troy Percival
He resigned his position on September 2, 2004 after 31 years at UCR.
"There's an old adage in baseball that you are better off taking somebody out too soon than too late," Smitheran said at the time. "I have been here for 31 wonderful years and I think there just comes a time when you look for other opportunities, or other things in life. I think that time has come for me."
But he wasn't done with baseball. Shortly after leaving UCR, he signed on with the Seattle Mariners as a scouting advisor, helping the team select the next generation of professional players.