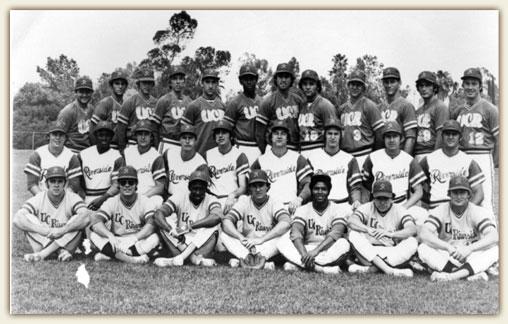 In Head Coach Jack Smitheran's fifth season at UC Riverside, the Highlanders claimed the program's first national title while setting a new single season record for victories with a 43-19 mark. The Highlanders were led by Division II's top two hurlers, as Dale Reis went 16-1 and Steve Glaum was 13-4. UCR's staff also featured future Major Leaguer Eric Show. At the plate, Jeff Carsley led the nation with 102 hits en route to a .416 batting average. Another future big leaguer, Steve Lubratich, stepped up with a .344 average.
UCR opened the season in non-descript fashion, going 6-4 over its first 10 games. The Highlanders seemed to catch fire in March, rattling off eight straight victories. After two losses, UCR again posted an eight-game winning streak to improve to 22-6. UCR rolled through the California Collegiate Athletic Association schedule with a 15-9 record to earn the program's second trip to the West Regional in three seasons.
The double-elimination regional, held at Riverside, saw UCR open with victories over Cal State Hayward and Cal State Northridge. In the championship, Hayward bounced back for a 7-3 win to set up a winner-takes-all rubber match. Up stepped Show, who tossed a three-hitter to send the Highlanders to their first College World Series appearance.
Traveling to Springfield, Illinois, for the World Series, UCR pounded its first two opponents, beating Delta State 8-2 and blanking Missouri-St. Louis 12-0. The Highlanders stumbled against Eckerd College 8-2, but recovered to squeeze out an 8-7 win over Valdosta State. UCR then downed Delta 5-3 to set up a rematch against Eckerd.
The championship game was a classic and featured a gritty outing from Glaum. Pitching for the third time in five days, Glaum threw a complete-game six-hitter with seven strikeouts as the Highlanders claimed the championship in just one hour, 55 minutes.
Smitheran was named the Division II Coach of the Year.