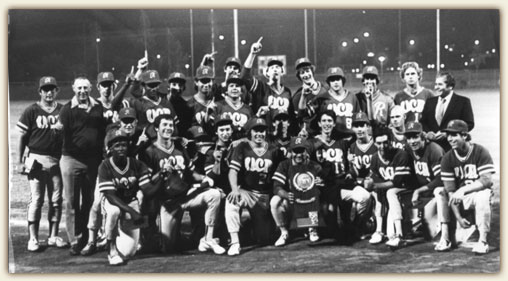 While the 1977 championship team started strongly, the 1982 squad didn't figure it out until a little later in the year. After their second College World Series appearance had ended after two games the year before, UCR got off to a rocky start in 1982, losing six of its first eight games and didn't post a winning record until the 39th game. Still, it's not how you start, its how you finish, and boy did the Highlanders finish. UCR won 19 of its last 23 games, including dropping just one of its final 12 to roll through the postseason and finish at 36-23.
UCR went 19-10 during CCAA play, completing the schedule with four straight victories to claim the league title.
Hosting the NCAA West Regionals, UCR beat San Francisco State and Cal State Northridge but the Matadors returned the favor in the third game. Facing off in another one-game series, UCR emerged victorious over CSUN with a 7-4 win.
UCR would stay at home again for the College World Series, opening up with a 6-1 win over Longwood. Back-to-back one-run victories over New Haven and Florida Southern set up the championship game rematch against Florida Southern. The Highlanders made it no contest, routing the Moccasins 10-1 for their second national title. In doing so, UCR became the sixth team to go undefeated through CWS play.
UCR was led by All Americans Curtis Smith and Matt Held, who hit .378 and .341, respectively. On the mound, Scott Wanzer went 13-6 with 17 complete games while Bill Mierzwik had a 10-5 mark.
For the second time in his career, Smitheran was named the Division II Coach of the Year.