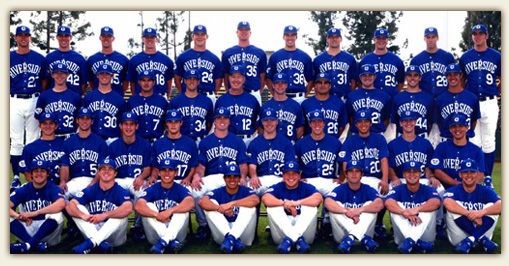 The fact that the 2007 Highlanders were a very good baseball team was not a surprise to anyone who followed college baseball. After all, the team returned 16 letterwinners, including six starting position players, three starting pitchers and three relievers who had logged at least 20 innings out of the bullpen the previous season.
But just how good this team would become might have been an eye-opener, at least to fans outside the Inland Southern California region. On the strength of veteran pitching and timely hitting, the Highlanders went 38-21 on the season and 16-5 in the Big West, winning their first conference title at the Division I level.
"It was a proud moment for us as a program. It was a significant step," Head Coach Doug Smith said. "I think it is something we can build on as a program."
Junior righthander James Simmons was dominant as the Highlanders' Friday starter, posting an 11-3 record with a 2.40 ERA in 123.2 innings. Senior southpaw Marc Rzepcynski was 6-2 with a 2.72 ERA, giving UCR a solid one-two punch at the top of the rotation. On the back end, freshman closer Joe Kelly, a converted outfielder, had a dominant campaign with a 3-1 record, 6 saves and a 1.32 ERA. As a team, UCR posted a 3.68 ERA.
At the plate, freshman right fielder Joey Gonzales paced the team with a .356 batting average. Senior shortstop Jaime Pedroza had a torrid season, hitting .325 with team highs of 13 homers and 55 RBI and junior left fielder Aaron Wible was right behind with a .313 average, 10 homers and 51 RBI.
The Highlanders were 10-4 after the first month of play, but played around .500 ball through mid-April. UCR seemed to find itself after suffering a three-game sweep at the hands of the Washington Huskies ripping off a 14-1 run that included five straight wins over ranked teams - No. 29 Cal Poly, No. 18 UCLA, and a three game set from No. 14 Cal State Fullerton. They finished the streak with a three game sweep of No. 11 Long Beach State.
To win the conference title, the Highlanders needed to win just one game over No. 10 ranked UC Irvine. That win came on Saturday, May 26 behind an outstanding pitching performance by Matt Montgomery, who had moved into the rotation following an injury to Rzepcynski. Montgomery, who went 5-0 in the regular season, dominated the Anteaters, throwing 8.1 innings of seven-hit work to help the Highlanders to a 4-2 win and the Big West title.
The Highlanders made their second trip to the postseason, being sent to the Arizona State Regional as the No. 2 seed. UCR opened the tournament with a 10-5 win over No. 3 seeded Nebraska, but lost to top-seeded and No. 6 ranked Arizona State and then fell to Nebraska to be eliminated from the tournament.
Following the season, eight Highlanders earned All-Conference honors, led by first team selections Pedroza, Simmons and Kelly. Simmons was named Big West Pitcher of the Year, Gonzales Big West Freshman of the Year, Kelly Big West Freshman Pitcher of the Year, and Head Coach Doug Smith Big West Coach of the Year.
Kelly and Gonzales each earned Collegiate Baseball Freshman All-American and Ping! Baseball Freshman Second Team honors. Pedroza and Simmons became the first Highlander teammates at the Division I level to earn Baseball America All-America honors, each being named to the second team.
Simmons also earned Collegiate Baseball Third Team All-American honors and Rivals.com First Team All-American. A few days later, he was selected 26th overall by the Oakland Athletics in the Major League Baseball Draft. A total of 10 Highlanders were selected in the draft. Freshman Joe Kelly was named to the USA Baseball National Team, playing against China and Japan, competing in the Pan Am Games in Brazil and the World Port Tournament in the Netherlands.