On the right center field wall at the Riverside Sports Complex, there are four "retired" numbers that recognize individuals who have made remarkable contributions to the UCR Baseball program.
The honorees, in order of "retirement"
Eric Show - #19
Show's number was retired in 1985, a year after he helped lead the San Diego Padres to a World Series appearance with a 15-9 mark. His Highlander career lasted from 1975 through 1978, when he was drafted by the Padres. He posted a team-high seven wins with seven complete games in 1975 and led the team in wins with five in 1978
In his major league career, Show was 101-89 with the San Diego Padres and Oakland Athletics.
Jack Carroll - #1 Fan
Carroll never played a game for UCR, but he was honored posthumously in 1998 as UCR's Number 1 fan. A long time booster, Carroll was involved in baseball at a variety of levels. He was recognized for all that he had done for baseball in the Riverside community throughout his life.
The Highlanders still use the number 1, but Carroll will always be known as the team's number 1 fan.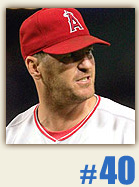 Troy Percival - #40
Best known as an All-Star Closer for the Los Angeles Angels of Anaheim, the Detroit Tigers, St. Louis Cardinals and now the Tampa Bay Devil Rays, Percival's major league number 40 was retired in the 2003 season, just a few months after he closed out the then Anaheim Angels' first World Championship in club history. Percival never wore the number 40 for UCR, nor did he pitch for the Highlanders. At UCR, he wore 28 as a defensive minded catcher with a cannon for an arm. He did not become a pitcher until he was a minor leaguer in the Angels organization.
Jack Smitheran - #2
The former Highlander head coach's number was retired prior to the alumni game in January 2006. In a collegiate coaching career spanning 35 years, Smitheran posted a record of 1,097-770-3, including a 974-709-3 mark in 31 years at UC Riverside and a 123-104 record in four years at the Division I level. In his tenure, he guided the evolution of the Highlander program from an unknown Division II school into a Division II NCAA champion and eventually into a Division I postseason qualifier.