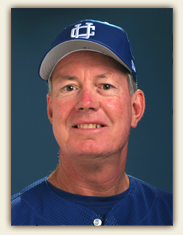 To our alumni, friends and family,
It is my honor to be Head Coach of the UC Riverside Highlanders Baseball team during this, the 50th anniversary of the sport at UC Riverside. To be honest, it is somewhat difficult to believe that I have been a part of this program, as a player, assistant coach and now as head coach, for more than half of that time.
Looking back, it really doesn't seem that long ago that I stepped onto the field as a catcher with the Highlanders, working with a young head coach named Jack Smitheran. Following my playing career, I had the chance to become a coach. By someone's count, I have played or coached in over 1,500 games. I think I remember something about all of them.
One thing that we have carried through all 50 years of our existence is the pride of the tradition of Highlander baseball. We are committed to excellence, both on the field and off. Many have gone on to careers in baseball, as players or as coaches. Others have taken their experiences learned between the lines and applied it to their everyday lives. Regardless, we are proud of each and everyone of our former players who have continued to strive for greatness on a daily basis.
One of the best parts of the game of baseball is the remarkable stories that it generates: the home runs that get longer and the curveballs that get nastier as the years go by. I know that this anniversary will present many opportunities to tell stories about Highlander baseball's past, and I look forward to learning a few new tales.
We hope that you will make plans to visit the ballpark for one of our home games this season, particularly for our Day of Celebration on May 24. It should be a great day for all.
Sincerely,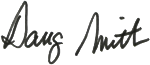 Doug Smith