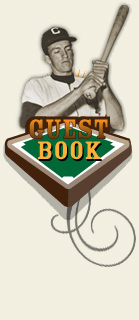 "From Sports Illustrated, May 14, 1984.
GOING, GOING... GONE!
Jack Smitheran, the baseball coach at Cal-Riverside, was thrown out of a recent game with Oral Roberts while he was going to the bathroom.
The home-plate umpire, unhappy about a couple of hit batsmen, warned both benches that the next such incident would result in the offending team's pitcher and coach being ejected. In the eighth inning, while Smitheran was in the dugout bathroom, out of sight and sound of the field, his pitcher, Walt Stull, hit a Titan batter, precipitating a bench-clearing brawl. "I didn't know how the fight started," Smitheran said later. "All of a sudden I heard some footsteps. I looked out, and there was nobody left in the dugout." Persuasive though this alibi was, the ump carried out his threat and gave Smitheran and Stull the heave-ho. Cal-Riverside won the game 11-4."
Although the guestbook will no longer be updated, previously posted articles will remain open as they continue to carry the spirit of UCR baseball. We invite both new and veteran visitors to continue experiencing history via the spirit and athleticism of fifty years of UCR baseball.